by Christine Churchill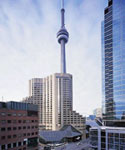 If you're looking for inspiration for a summer trip that combines professional development, culture, and natural beauty, here's a suggestion: combine professional training with a family vacation. Treat yourself to the high powered Search Engine Strategies Toronto Conference and instead of flying straight home, bring the family and explore Toronto and Canada.
SES Toronto is scheduled for June 16-18.  The first day is a full day of training consisting of  four-hour blocks of personalized instruction given by some of the top experts in the country.  Toronto's training sessions include Link Building taught by the Link Goddess herself, Debra Mastaler, SEO Tools taught by the creative and fun loving Todd Malicoat, Search Engine Marketing Metrics and Myths taught by ex-Googler Adam Goldberg, and Social Media Marketing taught by KeyRelevance's own social media dynamo, Liana Evans.
June 17 and 18 are the actual conference dates. I was pleased to see my dear friends Fredrick Marckini and Bryan Eisenberg giving the keynotes. When you walk out of their keynotes, your mind will be going a hundred miles an hour, filled with a fresh perspective and stimulating ideas.
Alan K'necht, President of K'nechtology and I are teaming up on the second day of the conference to do the Keyword Research session. Alan and I have spoken together on panels in the past and he is one of my favorite people. Alan doesn't hold back on his advice. He is one of the most open and forthright people in the industry. I'm excited about our session and our goal is that after our presentations you will have an arsenal of keyword research techniques at your disposal.
Plan a few extra days to explore Toronto and Canada. Toronto is an exceptional Canadian city, and you would be well served to take advantage of the opportunity to get to know it better. The CN Tower, the Royal Ontario Museum, and the Harbourfront on Lake Ontario offer something for every member of the family. Hope to see you there.