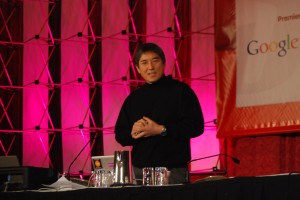 At this year's SES in New York City the opening day keynote was Guy Kawasaki. Guy presented a lot of stuff about Twitter. Being a man who's rather well connected, a thought leader in the marketing world and someone who has decent sense of humor, I found myself rather intrigued by this keynote. It was by far the funniest keynote I've attended in a long time, and I think humor goes a long way with me being more open to what a speaker is trying to convey.
Guy's connections allot him a lot of "first cracks" at tools, websites and services that most "Non-A-List" people don't have access to, so he gets intimately familiar with the marketing aspects some of these tools could be used for. Now with that being said, is every tool presented to him, or pitched to him make it to his list to present at keynotes? Likely not. The tools he did present actually can be used for some genuine marketing and measuring purposes.
I heard a lot of "grumbling" at SES that Guy Kawasaki is a spammer. "If one of us SEO's told people to use these tools that way, we'd be fried at the stake", was one cry minus a pitch fork or two. I found myself disagreeing with this line of thought. When you physically have the choice to follow or unfollow him and even the option to block him as well by very simply clicking a button to not see the spam, I find it hard to call what he does with his Twitter account spam. He does come close to the line with his use of TwitterHawk, but if he uses it truly as he showed the audience where he reviews the tweets before they are sent, then, I really don't see how that is spam. This is using a tool to help market your message in a unique way.
Tweeting isn't like searching. With search results, scheming websites are made by the thousands to spam the search engine results and as searchers we don't have the control like you do in Twitter to just block the result and not see it every again (however, technically you can now with Google's Search Wiki). With search spam you don't have the option to "unfollow" like you do in Twitter. If you don't like what Guy's tweeting, simply go to his profile and click "unfollow" or "block" and what you call "spam" will cease – "walla!"
There are over 95,000 people following Guy Kawasaki. Apparently those people are finding something of value from the information he and his staff tweet out. We as SEO's may label his tactics "unethical" or "gray", but I have a hard time even doing that. I also asked the question on my own twitter, "Is Guy Kawasaki a Spammer or just a Marketer using tools in a unique way". To my surprise, the opinions came back overwhelmingly that he was a savvy marketer.
I also heard a lot of people making such a fuss about Guy Kawasaki "ghost tweeting". I took a step back and had to honestly ask myself if it was ghost tweeting if the person readily admits on stage he has people tweeting with him in his account, if he puts it on his profile and readily tweets about it. It's not ghost tweeting, he's being transparent, he's been up front about it for a while now. Would I recommend a client setting off to do what Guy's doing? Most likely not the same way, again the value to the audience dictates how to work the social media strategy.
Then this morning, Tim O'Reilly was surprised because of the New York Times article that included 2 paragraphs about Guy's "ghost tweeting". This particular tweet has been retweeted over and over again. Shock, Drama, Outrage! But why? The man has stated for a while he's had help with his tweeting, he says he does it to an audience at both SES and SxSW, he has it stated on his Twitter account (also states names of who helps him) after asked to amend it by Dave Fleet, and readily admits it in his tweets when asked. I guess people would like him to add "TRGK" on his tweets for "The Real Guy Kawasaki" for the one's he tweets? What's the sense in that – if you don't like what he and his team tweets – unfollow him.
Then there were outcries that Guy's a "broadcaster". I've been watching his tweet stream closely. The man (and Guy states it is him who responds, not his team) does interact with his audience, he doesn't just send out link after link. If it was link after link that truly delineated a spam account from a 'real' account, wouldn't CNN's account then be considered a spammy twitter account? It's about the perceived value of the content to the audience. Apparently Guy's content is valuable to his audience because not only are his followers growing, but look how often he's ReTweeted. In social media its about the value the end user perceives they are getting, if Guy's figured out how to give his audience what they want through using tools like Twitterhawk and Adjix, more power too him.
Might some of his tactics float around the "grey" area of marketing and spamming? Perhaps, but I keep going back to those nearly 100k followers who not just speak to him but retweet not just his links but what he says to say they obviously don't mind, obviously they are seeing value in Guy's "Spam". Ironic, no? I think this goes to prove a point that "spam" in Social Media it truly is about the value the end user is getting, not the tactic by which they receive it.