By Liana "Li" Evans
As a business, no doubt you will have your run in with an upset customer or two. But what happens when that customer turns into a troll? Or what happens when you are subjected to the "experienced complainer"?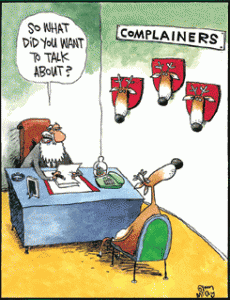 What's an experienced complainer? Well those are the people who know how to "troll" the system. Knowing that if they complain enough, they'll be placated with discounts, coupons, certificates, and special things all to "soothe" their complaints. They then figure out they can do this just about anywhere they go. All of a sudden, seemingly or magically they get free trips, special discounts, and the like, all because they threaten to write a letter of complaint. These days, even more damaging, they threaten to write a negative review on sites like Yelp, TripAdvisor or Epinions, or even possibly more damaging – write a blog post with a scathing review, with links to your website that are nofollowed.
As customers, I'm sure we've seen these types of people. Nothing ever makes them happy, not even free things (undoubtedly they'll find something wrong with that, too). So what's a company to do? How can they fight back? Can they takes steps to protect their good name and reputation from these types of complainers, scammers and trolls?
Seems helpless doesn't it? Well take heart, people in these social communities are smart. Especially if you are making an honest effort to communicate with your audience and reaching out to them. They can smell a "troll" a mile away. They can peg a constant complainer usually within 2-5 posts on a forum or a blog, and they can certainly use their own voice to "out" them as the scammer they seem to be.
Is there anything else you can do? Well in this day and age of digital photos, videos and instant reviews by bloggers and review sites, you do need to do your do diligence before taking extreme actions against the constant complainers. Research and documentation into them is probably the best course of action, to proove that the complainer has a history of "never being happy".
Take the case of Royal Caribbean Cruise Lines and a couple from Cleveland. I wrote about them on SearchMarketingGurus. This couple has done nothing but complain for years and were "soothed" with discounts, special packages and percentages off – all because they were Diamond Club members. I did a little poking around in forums, and the wife seems to leave a wide path of complaints all over the place. The communities even call her a whiner.
Royal Caribbean seems to have done a bit of homework here, and felt they'd never be able to make this couple happy. Guess what they did? They banned the couple from taking cruises on their cruise line for life. Drastic? Perhaps, but it does alleviate the issue dealing with a customer who seems more out to take advantage of your business than anything else.
While banning customers from your business might not be the first option you want to take, it is there if you have the need to do so, but prepare for backlash, undoubtedly the customer will play the victim in the end. In the case of Royal Caribbean, the local news interviewed the wife about the distressing news RC banned them, and a website or two came to her defense, saying complaining to much got them banned. But looking at other sites, the wife has been outted as a "constant whiner" – so who's right? I guess that's up to Royal Caribbean's customers and online community to make their decision with their wallets.
If you are active with your audience, talking to them, interacting with them in social media, believe it or not a lot of times your customers will take up your defense. So the lesson to be learned here is hold an honest conversation with your customers or audience, as they say, the best defense, is a great offense.