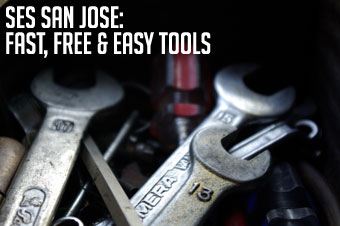 KeyRelevance will be well represented next week at Search Engine Strategies in San Jose. Our company president, Christine Churchill will be speaking Wednesday on the "Keywords & Content: Search Marketing Foundations" and "Advanced Paid Search Techniques" panels, and on Friday is giving a four-hour training workshop, "Making Pay Per Click Pay – Best Practices in Pay Per Click Advertising." Also Wednesday, Li Evans will be speaking on the "Successful Tactics for Social Media Optimization" panel.
It's my turn on Thursday, when I'll be giving a starter-level presentation on the "Fast, Free and Easy Tools to Get You Going" panel. This is part of the Just the Basics track, geared toward anyone who's new to search engine marketing. While we're all going to be advocating the use of tools to make your search marketing life easier, I'm reminding myself to emphasize that tools aren't a replacement for individual analysis. Tools shouldn't make the decisions for you; they should make it a little easier for you to make your own decisions.
If you can't be there on Thursday, here's a roundup of the tools I'll be introducing in my presentation:
SEO Tools
Firefox web browser
SEO for Firefox plugin
Search Status plugin
When I think of SEO tools, Firefox is the first thing that comes to mind. There are so many terrific plugins that make site analysis and competitive research easier. I almost thought about doing my whole presentation on Firefox and its great SEO plugins, but ultimately decided to cover a wider variety of tools. Such as…
Keyword Research Tools
Keyword Discovery
SEO Book Keyword Research Tool
Keyword Discovery has been my keyword research tool of choice for a couple years now. The paid version offers some great features in an easy-to-use interface. The link above is to the free version, which has fewer features than a paid account, but is still a good tool to use for basic keyword research. And the SEO Book tool is a great complement that people should be aware of, too.
There are lots of other great keyword research tools, but my fellow panelists are planning to mention some of them, and we've agreed not to repeat one another.
Backlink Tools
Yahoo! Site Explorer
Link Diagnosis
The search engines are pretty stingy about revealing all the backlinks they're aware of. Of the three main engines, Yahoo's Site Explorer is considered the most comprehensive and reliable, so I'll be mentioning that as an official source of checking for backlinks. Among the other tools, my favorite is Link Diagnosis. It shows backlinks, the anchor text of those backlinks, which pages on your site appear to have the most backlinks, and so forth. These tools can also be used to help local link building opportunities, but I'll be mentioning tools for that purpose separately.
Link Building Tools
The idea behind both of these tools is similar: They examine the backlinks of the highest-ranking sites for your keyword and reveal what sites are linking to those high-ranking sites. This helps you locate "hub" sites — sites that would make a great place to get a backlink to your site. If you're interested in more background, I recently wrote a fairly detailed Traffic Marks review on Small Business Search Marketing.
PPC Tools
I don't do much PPC work, plus my fellow panelists are going to be discussing some of the more well-known PPC tools. So I'm going to share this one — it's a favorite of mine. If you do geo-targeted PPC, this might be a real time saver. With this tool, you supply a zip code, radius, and your keywords and the tool spits out a list of keywords you can use in your PPC campaign. It takes the zip code and radius you supply, and locates all the city and town names in that geographic area, then concatenates them with the keywords you provided to create your keyword list. Pretty cool.
Domain Tools
Yep, the name of the tool in the domain tools category is "Domain Tools." Clever, eh? Anyway, it's simply the best place I know of to research registered domains. It'll tell you the WHOIS data, of course, but also a lot more about the domain, too: the Title tag of the home page, the meta description text, how many internal and external links are on the home page, whether the domain is listed in DMOZ and the Yahoo! Directory, and so much more.
Spider Tools
This is one of a couple different tools that will show you how a search engine spider "sees" your web page. I'm including it in my presentation because it goes beyond that to also include some extra data like link counts, word count, page size and load speed, and things like that.
—–
So, that's it. Twelve tools, 24 slides, and I have 10-12 minutes to fit it all in. No problem! It's been fun working with fellow presenters Scott Allen and Joe Abraham. We're making sure there are no repeats in our presentations, so the attendees should learn a lot of different options for their SEO and PPC needs.
If you'll be at SES next week, please do say hello to Christine, Li, and/or myself — we'd be glad to meet you and say hello!
(photo courtesy batega, via Creative Commons)