This past weekend the internet was buzzing. What were they buzzing about? The movie trailer for the new Wolverine movie coming out. It wasn't on main stream news, where it was buzzing was on social networks, social news sites, video shares and forums as well as social communication channels like Twitter.
The trailer hit theaters as a lead in to the Keanu Reeves' movie, a re-adaptation of "The Day The Earth Stood Still". The first real big buzz coming Friday night. A smaller bit of buzz about the Wolverine movie came during Comic Con this year where they showed a slightly different trailer.
So how did 20th Century Fox stumble out of the gate on this one? There's several ways, and as a marketer who's well versed in online media, it just frustrated me to no end that these big movie houses still just do not get online marketing in any sense of the form.
What Happens When You Can't Find The Website?
Let's start with their website. Think you can find the official Wolverine website by typing in Wolverine Movie? How about Wolverine Movie Trailer? How about using it's official movie title "X-Men Origins: Wolverine"? Nada – Zippo – Zilch. All through out the weekend I tried, today I took screen caps – no where in the top 10, take a look below (click the thumbnails to get a larger view).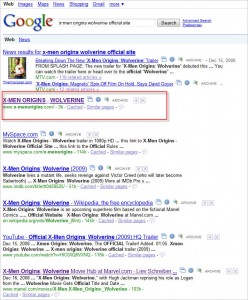 Their website is in flash, totally absolutely in flash with absolutely no content a search engine's spider can read. The only thing it can read is the title tag for this site. Talk about being invisible to the search engines, and to the rabid Wolverine fans! It wasn't until I typed in "X-Men Origins: Wolverine Official Site" did I get the movie site to come up in Google. Now tell me who the heck is going to type that in, other than me who was bound and determined to find the official site?
Video, Video, Video… It's Where the People Are At
Now lets go to the subject of the trailer. Talk about needing to loosen control! 20th Century Fox definitely needs to loosen their death grip if they aren't going to put their trailer out on their site the same day they release it in a movie theater. They also need to realize that when they don't come up for "Wolverine Trailer" for their own site, they need to have it ranking else where, or someone else will. On Friday, Saturday and early Sunday there was still no Wolverine trailer on the official site, what in the world is wrong with their marketing team? Granted today when I went out to look the trailer is now there.
People were clamoring to see this trailer who didn't want to go see this movie. Let me tell you, as a comic book gal, and a XMen fan from my childhood years, I was clamoring to see this trailer. I've been waiting like the rest of the XMen fans since the last movie to get more. We all scour the internet for clues, tidbits and the slightest bit of information we can glean to satisfy our need.
Thus why looking for this trailer became an obsessions with not just me, but others as well over the weekend. According to Groundswell, the author Charlene Li, points out that 29% of the people in social media are watching videos other people have made. Google was pulling down more trailers of Wolverine this weekend than you can imagine. But people were still searching for this trailer on YouTube and any other video share they could find.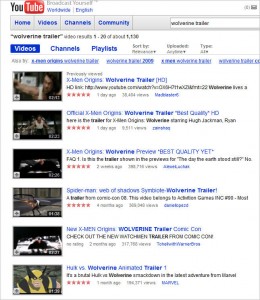 The Fans Take Action…. 20th Century Fox Misses Out
I did find it on another video share, I'm not going to say where, because I don't want to see it taken down. I found another trailer from Comic Con too – and what's amazing about that video, it captures people cheering during the trailer, talk about fandom! Cheering during a trailer – now that speaks volumes.
People were videoing the trailer from their phones while in the movie The Day The Earth Stood Still. They uploaded it to video shares and blogged about it. Why did they do this? 1) they love XMen, Wolverine in particular 2) they recognized that 20th Century Fox wasn't filling their need or the need of others.
No where on YouTube is there an official Wolverine, 20th Century Fox, or Marvel Channel for the movie. What 20th Century Fox doesn't realize is that there is real buzz going on about this movie. One look at Google Insights tells the story. Just over this weekend searches for Wolverine skyrocketed, several terms are break out terms with searches increasing over 1000% (I don't get the big surge in Michigan though). None of these terms are pushing traffic towards the official XMen site either, and if you notice, none of these terms use the long arduous title that 20th Century Fox Does.
So this leads to showing you the audience, a lesson in strategy in combining both SEO and Social Media strategies together when you are launching something big. When you understand online media, and aren't having such a death grip on control of your brand, you can reap huge rewards. Unfortunately for 20th Century Fox, they are just making their fans of XMen and Wolverine not like them very much.
And btw the way, yes I did a fan girl squeal when I saw Gambit. 😉 ahhh Remmy LeBeau makes me weak!