As most marketers are painfully aware, In Oct 2011 Google stopped providing keyword referral data in Google Analytics for searchers who are logged into Google or for searchers using Secure Search (which Firefox has more recently adopted as the default for Google searches).
As a result of the loss of this valuable keyword data source, online marketers have become very creative about designing ways to recapture some details on the search behavior of these visitors. One approach has been to extract more information out of the Google Webmaster Tools (GWT) data which so far isn't affected by the not provided restriction.
The query data in GWT is limited. The reports provide impressions and click information, but no conversion or other site engagement data. As a result, the data is good for keyword research and to find terms that are relevant to your site, but you'll likely still have to test the terms in PPC to gain actual conversion information about the terms.
If you have your Google Analytics and your Google Webmaster tools accounts linked you can view the GWT query information directly within Analytics. Google has a section called Search Engine Optimization that displays data sourced directly from GWT.
Not a Discrepancy, a filtering Inconsistency
If you have looked at the SEO data in Analytics and then logged into your GWT, you probably noticed that the queries don't correlate well. The reason for the list of queries being different is due to the default filtering being different in the two reports.
In Google Webmaster Tools, the queries are filtered to show search query impression and click data from Web searches only by default. You can see a snapshot of the query filtering options below. Notice the Filters button and to the right of it the default is Web.

If you click on Filters you can chose between Web, Mobile, Images, Video, or All. In GWT they list queries filtered for Web by default.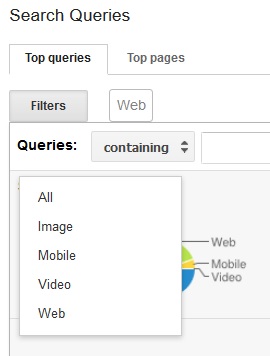 If you then go over to Google Analytics, you will notice that the SEO queries are not filtered. You essentially get the All option. If you want to compare the default list in GWT, you will need to tell Analytics to include "Google Property" and filter for Web.

Then assuming you have the same date range in both Google WT and GA and that you have the data sorted by the same metric, the lists should correlate. Please note that there may be latency reasons for the data not matching if you select a too recent date.
Once I realized the filtering was different the query data made a lot more sense. Hope this helps a few who like myself, was puzzled over the lack of consistency in the query data.