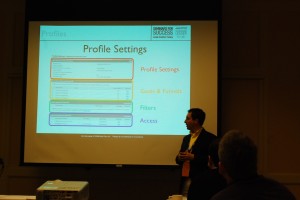 Yesterday was the first day of the eMetrics Marketing Optimization in the Washington DC area. The conference runs until Thursday, and I'll be posting some highlights from the eMetrics conference.
Google was one of 4 special sessions yesterday that eMetrics hosted on this first day. The other three sessions were eMetrics Industry Insights Day, Web Anayltics Association Base Camp sponsored by Omniture and Intelligent Research, Targeting & Measurement of Interactive Ads & Audience. In the all day session on Conversion was focused upon Google Analytics for about 95% of the time, and some focus on current and upcoming tools Google is working on.
In the Conversion University presented by Google Analytics session, things started off pretty basic with a basic overview of where Google Analytics came from, as most online marketers know, Urchin was acquired by Google back in March of 2005. Urchin itself, was started back in 1997, so it had been around measuring website analytics for quite a while. After the acquisition by Google (shortly after Urchin launched its Urchin on Demand product), Google launched its analytics in November 2005. It's amazing to me it has been nearly three years since that launch – wow does time fly.
From the history we dove into a lot of different things with Google Analytics. From filters, to exclusion of parameters, to profiles and making them for special groups, subdomains, blogs, etc., there's a lot of ways that small businesses can make Google Analtyics a powerful resource for gaining insights into what can improve their conversions. The most surprising thing to me, is that there is a lot more than I really ever thought.
I've been using Google Analytics since the inception of Search Marketing Gurus, but I've never taken the time to dive deeper than what is at the surface. Now that I've been introduced to the more powerful features, you can bet I will be utilizing them. Sometimes reading a book can inspire you, but for me actually sitting in a class, and having the tools demonstrated live, works even better to motivate me.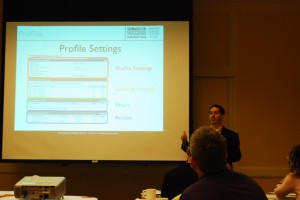 The class went on to work with hooking Analytics up to your Google Adwords account, how you can track down to the finest minutia of what is working and what isn't working in your online marketing campaign with Google Adwords. It's rather easy for small businesses to do, and easy if you are someone who is managing the PPC campaign yourself.
The end of the day was dedicated to Google's Website Optimizer. Talk about a powerful tool, that FREE. Anyone can now take advantage of website optimizer, you no longer need to have a Google Adwords account to do so. So if you want to do A/B testing, multi-variant testing or split testing, Google's Website Optimizer can handle them all. It's really a neat tool, and you can use it to test colors, buttons, banners, text on the page and just about anything that you think would enhance or detracts from the visitor converting on your site. Remember conversions isn't just buying something, it's subscribing or commenting too!
The last part of the full day session went over other Google tools such as Google's Webmaster Tools, Inisight and the currently in beta AdPlanner. AdPlanner is some very powerful stuff, and the representatives in the room with the instructor, Justin Cutroni of EpikOne, told us that the data that AdPlanner uses does not come from Google Analytics or Google Accounts.
Overall, I'm really glad I picked the the Google Conversion University. Sometimes as marketers we take for granted the "top level" of tools and don't dig deeper, either because of time, or resources, or maybe that's someone else's responsibility. It's great to get this kind of in-depth perspective, and it's definitely a great reason to come to this conference. For some quick insights, hop over to my "A Morning at Google Analytics University" review on SMG.