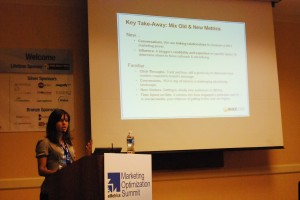 The third day of the eMetrics Marketing Summit was chalk full of great information, just as the prior days were. I found myself completely enthralled with everything in the Social Media track, even the Word of Mouth Metrics session. In this session Sandra Ponce de Leon of BuzzLogic and Ann Green of Millward Brown presented some interesting information when it comes to measuring the effects of WOM campaigns.
Sandra Ponce de Leon, BuzzLogic
Social Media Metrics: Measuring Influence to Drive Effective Engagement & Sales
Social media means a lot of different things, it can mean social platforms, social bookmarking, etc. This fact makes measurement challenging, and without measuring where do you know where do you place your marketing dollars. More and more, marketers are having feet to fire – measurable results are demanded!
Reliable Social Media
Blogs: "old timers" in terms of consumer adoption and maturing. Blogs are pretty much mainstream these days. Over 77 million visitors go to blogs which is much more than Facebook or Myspace.
90% of bloggers already talk about brands, 4 out of 5 post product reviews
65% of blog readers seek an opinion when reading blogs
half of all blog readers consider bloga as a useful source for information
BuzzLogic offers a SMM platform & Ad network which:
measure influential content in social media across any topc and ..
serves display and rich media ads on relevant influential sites and / or…
makes it easy for brands to engage with content creators directly
Why does measuring influence matter?
looking at the influencers you can separate the signal from the noise
verifies perceived impact
provides insight into the people behind the content
facilitates intelligent relationship building
focuses traditional online advertising efforts
Social Media Strategies with Influence
Defense
determining whether the noise is just noise – and focus resource wlsewhere
commenting on blogs w/ high impact to steer conversation
competitive intel from blogs most influentinal on your customers
Offense
commenting on blogs w/ high impact
cultivating largely unkown but influential bloggers
cross-linking relationships from a corp blog to influencers
maximizing ad campaign ROI by targeting ads to the most influential sites
Identify "Conversations"
Quantify the "Influencers"
Identify Influencer Networks for Ad Placement
Ann Green Millward Brown,
Framing the Word of Mouth Measurement Discussion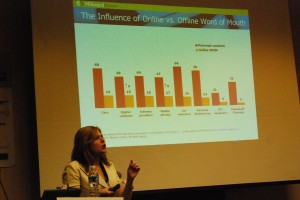 Two types of WOM
1) Buzz – something to talk about, creates curiosity, exogenous
Great example of this is "Will it Blend" – iPhone 3g blended in their blender "buzz based campaigned" it got Bendtech on the Tonight Show (blended a rake handle on the show)
2) Advocacy – driven by product quality, offers proof, endogenous
Great example of this is Google- simple, easy to do, goal was to build a great product, they spent virtually no money on advertising. Google is now a top 10 valued brand.
89% of all marketers told MillwardBrown that they execute integrate marketing campaigns (across all fronts).
Web Analytics tools are critical to measuring online WOM transmission:
Audience/Reach/WOM Units
Tonality
Brand Recommendations
Visibility Times
Frequency
Depth of Dialog
But marketers also want to understand the impact of WOM. Its all about accountability, spending little on WOM. Word of Mouth Marketing does not operate in a vacuum, it's about understanding its role in the purchase process. However not all Word of Mouth Marketing is all about online, WOM is a hugely influential touchpoint from any medium. In the end marketers need to make the distinction between buzz and advocacy – they build brands in totally different ways.