Experimenting in social media and web 2.0 can be a really fun thing to do. That is if you are an individual working on testing out some theories, or a small company that is nimble enough to adjust, make quick changes and adapt. Where experimenting with social media crosses the line of fun into dangerous territory is with brands who think that it's the newest, hippest, greatest "thing" they should be doing, "just because".
That "Just Because" reasoning is probably the most dangerous reason out there.
Just because the competition is out there doing it
Just because there's lots of people on twitter
Just because my kids have a MySpace page
Just because CNN or Time Magazine mentions it
Those are just a few of the "Just Because" reasons you hear. These are really dangerous reasons to start "playing" with social media, especially if you have never ventured into the area before. There are key things you need to be prepared for if you enter into this space, one thing is that it takes time. So many companies are coming into this space thinking if they slap up a Twitter stream, or a Facebook page, that's social media. Sorry to burst the bubble here, that's as far from social media as a company can get. That's just more of the same old advertising consumers are sick of.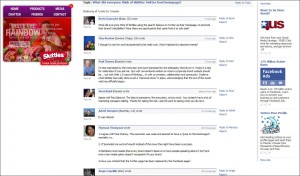 I wrote about Skittles not "getting it" with their Twitter Stream & social media when it launched on Monday. Word comes from Media Post that they pulled their Twitter campaign. Now Skittles is showing a facebook page. Again, this isn't social media. These are just flashy billboards, ones that after a while can even hurt the Skittles brand.
update: @CharleneLi has said that Skittles was going to change out their homepage all along. Regardless of that I'm still standing by the fact that this isn't "real social media"
Why aren't these social media? Skittles is using social media aren't they? The word here is using. In social media, you need to actively engage, not utilize it as an outlet like Skittles is. Did Skittles engage in conversation on Twitter? No, heck they don't even own the @Skittle twitter account that people were trying to talk to them through. Are they engaging on Facebook? Nope, it's other people starting conversations (see screen capture to the right, click for larger view). Skittles uploaded pictures, but isn't starting discussions, or engaging in them, not even the good ones. Someone had commented on my post about Skittles on Monday that "did I see they were doing Facebook, Flickr, YouTube and Wikipedia?". Yes, I did know, but here again, they aren't engaging the community. For example at the time I write this post, the YouTube channel as 24 subscribers, and they've only watched 19 videos, favorited 1, not responded to any comments, and it doesn't look like they've made any friends. How is that being social? (please also note: their "use" of Flickr is just a stream of photos on flickr tagged "skittles", like Twitter, prime for spamming)
Experimenting with Social Media can come at a cost, too, especially when you are dabbling with something that is totally out of the spectrum of your target market. Lets take for example Skittles again. Skittles is a candy. Who is candy marketed too? Kids and perhaps teens. Now with that in mind, what do you think is on all the packaging for Skittles? Their URL (see the photos below I took of a Halloween style candy handout and the bag those came in)! What do you think kids are going to type into their computer if they are eating Skittles as they surf the internet? http://www.Skittles.com. Do you think Skittles.com is going to be stopped by parental filters? Not before Monday it wouldn't have been. Now, let me pose this question – are these kids and teens using Twitter by the droves? No, they aren't – you find them on Bebo.
So your major demographic is kids, but you are using a social media piece of technology not used by your target demographic, why? Ummm "just because", it's cool and it will get us buzz! Will it get more kids or parents to buy your candy. Nope.
What it will do, is insight the spammers, the jokesters, the rather rude people to make a mockery of your brand. It then causes those kids who read your packaging who come to your site because you displayed your URL to see messages like this tweet (please be informed that link is rather offensive), and those kids to ask their parents, "mommy what kind of flavor of Skittles is that?"
See the danger of experimenting with social media, now?