Warren Whitlock, Digital Business Strategist, Carbon Digits, Moderator
Warren starts out asking a few audience questions surrounding in-house vs agency and who creates the cotnent within your organization.
First up is Kirsten Wright, Social Media & PR Manager, MagnaFlow.  She's been working in the industry for 6-years.  Her business sells auto exhaust products. Going to talk about the combo of social media and traditional marketing.
Many brands are using the interaction with clients to create their marketing materials.  Many print/tv campaigns start with a social campaign because socially its much less expensive to test than testing with print or media buys.
Traditional marketing and social media are both branding tools, they're both communicative – they tell a story, service based – both interactions expect good customer service.  They're sales channels, all customers, new & repeat are affected.  Traditional and social media are complimentary.  ROI is seen if you can work the campaigns in tandem.
If every campaign you have is targeted at new customers, rethink it.  Reward and cultivate return customers.
Next up, Rebecca Murtagh, Chief Strategist / President, Karner Blue Marketing LLC to talk about integration.  It's a fact that internet users spend the most time on social media.  Most minutes spent: Facebook 405 minutes!  Hitwise shows that recommendations from known people have the most influence on a purchase,social media is core in this.  Mary an ad with social and you can succeed.  Where is time spent?  B2B 60% on SEO, 18% on Social Media.  B2C 41% SEO, 25% Social Media.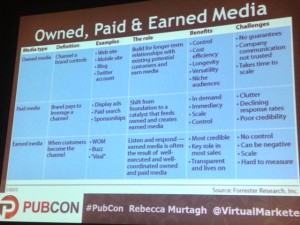 How do shoppers use mobile devices in-store.  Compare prices, scan a code, find a review, download an app, Complete a survey, write a review, tweet about an experience.  Think about how people want to use the information/website.
Search is the #1 way people are behaving on the web, WHERE They search can vary.  Google knowledge graph = relationships between people, brands and something else.  Search engines care because 70% of users trust reviews.
Best bang for your buck is always going to be driving someone to your website, not your Facebook page or Twitter profile.  Lead back to the website.  Integrate all avenues of social with your website.
Keys to integrating successfully
Create a content calendar
Coordinate with Media/PR Campaigns
Focus on Relationships
Measure, Analyze Adapt
3 phases of purchase decision – Research, Compare, purchase.  Every message should be balanced somewhere in these phases.  Don't talk to the masses or the world, everything you put out is being consumed 1 individual at a time.  Don't leave a comment or review/complaint out there hanging, always engage.  Try to make it right even if the complainer never sees it.