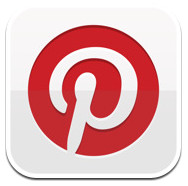 Pinterest appears to be gaining traction really quickly right now. If you aren't familiar with it, it's a image sharing site which provides theme based "image boards" which people can "pin" items to (think of the old cork bulletin boards people hang on walls and pin photos and pieces of paper to).
It seems unusual to see a new image-sharing type of social media site to be gaining so much ground, and so quickly. This could be happening due to beneficial attention from influential people who may be serving as "mavens" as Malcolm Gladwell describes them. With significant people such as Jeremy Stoppelman (involved in early PayPal, Yelp, etc) as initial investors backing it, it has gotten pretty good industry attention.
I have written numerous times about image SEO and leveraging social media image sharing sites in the past as a means for building PageRank when doing search engine optimization, so I may have to update my comparison matrix for image sharing sites for SEO value in order to rank it.
Pinterest's homepage has a toolbar PageRank value of 6 currently, but nearly 16 million pages are indexed! Even more wonderfully from a search marketer's viewpoint, the dreaded NOFOLLOW tag is not in use as of yet, so links included with images can pass PageRank. For instance, this page of wedding photos contains links which pass PageRank (although, arguably the links could be slightly more optimal if they weren't opened into new windows with the target="_blank" parameters in the link tags). Pictures from Pinterest.com are showing up nicely under image search results, too.
According to Google Insights, searches for "Pinterest" have climbed so quickly this year that it's now on par with searches for "Flickr" and "Picassa". While searches for the brandname do not equate with traffic/visits to the site, they typically do correlate pretty closely.
Some degree of Pinterest's success may be attributed to its iPhone app, which has gained over 35,000 votes, and has 4.5 stars, indicating it's well-liked by users.
The main detraction from the site right now is in terms of motivation — why do users wish to go here, versus merely sharing images in Facebook, Twitter, Flickr — or, even within Google+, for that matter? The main advantage the site has right now seems to be in terms of the user-interface featuring the pinboards, which allow for good browsing, compared with less compelling lists of thumbnails found in most sites.
The site also has a number of significant issues in terms of usability. If you sign up now, you can expect some clunkiness, depending on your browser. However, I would expect these issues to be addressed fairly rapidly.
For SEOs, I recommend that you enjoy the not-yet-NOFOLLOWed status, because it's certain to come to an end really soon. I might also predict that as it stands now, I think Pinterest might make better longterm sense as a user-interface feature of some other social media service such as Facebook, Twitter, or Google Plus. It might make for a very good acquisition for one of those services.