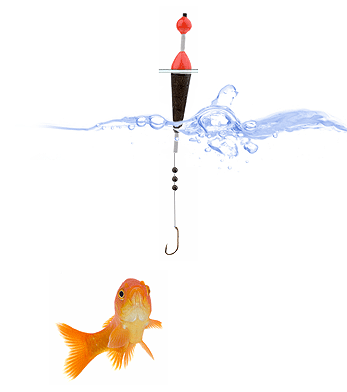 There was a time where announcing that you've hired a new employee was enough to get a mention in the newspaper. Announce that you launched a new website, it could get the local news station to your office for an interview. Back in the day, those were hooks that could catch a reporter's attention enough to bring them in and have them talk to you more about you and your company or organization. "Back in the day" was 2003 when I'd do public relations for my clients and getting the press interested with them was part of what I did with my web design firm. Still I always need a hook, not just "We Launched a New Website", but something more.
Today, it's not just the press you need to bring in, its your audience. Clients, fans, evangelists and even detractors are all online all craving for reasons to care (or not care) about what's going on in your company that matters to them. Just sending out announcements that you'll be appearing here or there, that your are adding a new product line or you've changed the name of something really isn't enough to get your audience to care ….. unless they were involved or responsible for your actions.
As with creating valuable content for social media, with press releases PR people have to start thinking well beyond "I need to get Buzz", to "why will our company's audience care about this information". It isn't about that its new, or its got great features, it's about how the audience finds value in the information you are trying to disseminate. Your audience isn't just the media or industry "experts" anymore, it's now your consumer audiences. No longer does your audience see the TV reporter or the newspaper journalist as the preeminent authority. The authorities now are bloggers, forum members, photographers posting their work on Flickr, it's the people holding a conversation about you & using your brand with a hash tag in front of it on Twitter, and its those people active in a fan group on Facebook. These are the people you need get to care about what your press release is about and they really don't care if your CEO is a keynote somewhere at an industry conference – unless you are Apple and it's Steve Jobs at MacWorld.
The hook now becomes "how does this affect my life" or "why should I care". If you've changed something about your company, products or brands after listening to the conversations in social media circles – that's something your audience will care about. So rather than announces a product launch to the entire media like CNN and the NY Times, look to your audience first. Take the approach "We Listened, We Responded, What Do You Think?" with the bloggers or "community elders". Give them the scoop first and fashion it in a way that it's not the "normal spin", that this is truly about your customers and audience.
At the end of the day, it takes a lot to change the mindset of entrenched PR Agencies, PR Specialists and marketers that there's been a dramatic change in who people view as authorities. There's also been a dramatic change in how audiences and consumers consume information and what they care about. Understanding both of those can dramatically increase the exposure of your press release and its success to the right targeted market.
So the next time your PR Agency suggests writing a press release about an internship, a keynote speaking event, or a new website redesign, maybe you should stop and think about your audience. Are they REALLY going to care? Then after you do that, maybe you should rethink who your PR Agency is.