Andy loves Pubcon because the moderator isn't necessarily an expert on the topic, so he's excited to hear from all of the panelists. Side note – I LOVE Andy's accent 🙂 And he used the word "queue"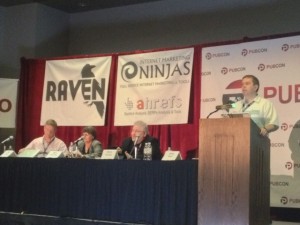 Andy Beal, Founder & CEO, Trackur.com, Moderator – and all around nice guy.  Be sure to say Hi to Andy if you see him wandering around 🙂
Brian Combs, CEO, of ionadas local LLC is up first.  He's going to talk to use about Google Place Rank.  He's showing his daughter Aubrey's photo, ZOMG cute!
Place rank is page rank for locations, Google seems to use this term internally.  Factors seem to be citations, reviews, photos, how many people seem to know about your business and how long your business has been around.  http://1.usa.gov/OHuHr2 – Google patent application around place rank.
UGC and activity – Quantity of reviews impact rankings, quality of reviews impact conversion.  Google is getting more aggressive in taking down poor reviews.  If you're paying for reviews, stop that!  Old methods of getting reviews still works.  Put a process in place, give them lots of options.  One review a month, or a couple a month can help over time.  3rd party reviews are being devalued ie Yelp.  Google sometimes loses batches of reviews, if you spread them around, you're better off when batches disappear.
Panoramio Google seems to love the geotagged images on Panoramio, they impact rankings but don't show up on maps as much as they used to.
Activity in G+ Local is being looked at, how often is it looked at, shared, viewed, etc.  The mroe you engage the more you help out how you show up.
Blog comments?  ugh….please no…….don't tell people those work…… I'm not typing that.
MyMaps in Google was a powerful factor, not so much anymore, he thinks they have benefit if you are a heavy user.  Local content is important – check out my coverage of Michael Dourausch's presentation in the previous session.
Suggests that citations have been devalued, but still worthwhile and necessary.  Some listings in moderately competitive spaces w/o a website still ranking.  All based on citations.
Brian likes UBL.org – paid service gets lots of info out in one shot.  Also likes whitespark for finding citation resources based on keywords.  Check out Getlisted.org/resources/local-citations-by-category.aspx.
It can take months for citations to kick in, have patience.  Local SEO is getting harder, its much more complex and harder for a mom & pop.  Get the entire team involved and make sure they're generating content.
Someone asked a question about Yext in between speakers – conference panel says it's too expensive.
Next up is Mary Bowling, Owner/SEO Consultant, Optimized! There was some technical issues w/ Mary's slides so they took a few questions in between.  Mary is going to cover solving common problems in Google Local/Maps/LBC/Places/Plus/Kittens/Squirrel…… 🙂
Mary did an unscientific survey of the Google Local help forum of what the issues were, Listing gone /out of control is the biggest issues.  Google is making a big change, shifting local onto social pages.  They're changing how reviews are shown, they're enforcing more rules, and they're using human review for a lot more "stuff" now.  Listings gone or out of control was higher in May vs September, but she thinks many have given up for now, not that the problems are being solved.
Info from the owner is just one set of data that goes into the cluster of information Google has about a business.  If multiple trusted sources are different from what the owner says, they'll not trust the owner's info.  Not all guidelines are published, and those that are published are vague so we don't find loopholes.
First thing to try is to "Poke the listing" – login and click the edit button and click submit.  If this doesn't work, go to the plus page and use "Make an Edit" to try to change data.  Be patient, might take about a week to show up.  Tick box that says "please email me with results."  You can use the places troubleshooter, a decision tree to find help.
Google places for business has a help forum, Mary cautions us to listen to the right people.  Look for stickyposts and announcement icons and pay attention to Jade W – a Googler and top contributors.
Google's map making community, the more you contribute the more likely you are to be a power user and your changes will be approved more quickly.  If you make a lot of edits that DON'T get approved, you can lose power, be cautious.  Don't just edit business listings, edit community things also, 100% business listing changes is suspicious.
You can use mapmaker to tidy up names and phone numbers, add more phone numbers, delete businesses that rank in local pack that don't belong there.
Problem: no control of listing – Location not supported,be patient.  Contact Google support via the troubleshooter decision tree.  Be prepared to recreate & reverify – if you have tried and tried, it's okay to start over.
Problem: reviews are gone – Might have been flagged as spammy reviews – dont put links in reviews, automatically tossed out.  Google knows some legit reviews get caught in the spam filter.  Keep getting reviews.  Reviewers need more account trust – 1 review ever by a user for your business and no more reviews = low reviewer trust.
Gold stars are gone, they're probably not coming back – if you want them you'll need them in AdWords express or review markup.  Stop griping about it.
Problem: merging listings – do not try to correct in mapmaker, use troubleshooter to report merges to Google
Problem: Moving location – mark old location closed, then create & verify the new one.  Google finally changed message to "this place is closed or relocated"   If you try to change your address in an existing listing, you're likely to end up with 2 listings.  Change your website first, then do G+ Local and data providers.
Andy asked how long folks should spend getting familiar with MapMaker – Suggests an agency have one person that becomes the MapMaker power user in the agency.
Lastly, but not least(ly), Will Scott, President, Search Influence is up to make us laugh.  He's from New Orleans and comes to Vegas and says "It's so clean."
Why On-site Google+ Local Optimization Matters.
Shows us David Mhim's Local Search Ecosystem….its scary.  He also has an Apple Maps ecosystem.  Check out http://si.ly/gl-citations for best sources for local citations by city.
Talking about Venice update from spring, Google looking at location prominence.  To rank well, you need to be relevant in places, and you need on-site relevance as well.
High Local Ranking + High Organic Ranking = High Blended Ranking.
Blended is what we are served, so do High Local + High Organic well.  If you do it right, Will will buy you a Bugatti…wait…i don't think he said that….Maybe just ask him?  🙂
Local search landing pages are important.  Check out the anatomy of an optimal local search landing page on Nifty Marketing blog.
Create individual pages for each G+ Local Category.  Use the G+ Local Categories as keywords on your page.  Use an informative URL naming structure as Kenny Hyder mentioned in the previous session.
Will recommending using hCard and Schema, not trusting that they're always using one or the other so use both.
Use KML files for your site, ESPECIALLY if you have multiple locations!