We're talking about local search today!  This is the only local session I'm planning on blogging, but that might change.  In fact it just did – I'm staying to hear more on Google Places and Maps Optimization!  I hear via Twitter Salon A has a torturous noise going on, no thanks.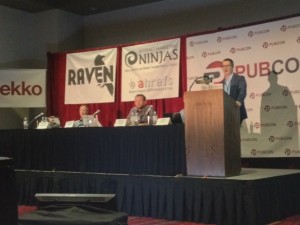 *Note – if you are using a Twitter client makes noise everytime someone sends you a message, silence it during a session…#duh
Arnie Kuenn, President, VerticalMeasures.com, Moderator
First up is Kristopher Jones, Chairman, Internet Marketing Ninjas.  Formerly owned Pepperjam, sold it and got involved with a few other companies, including ReferLocal, now Chairman of Internet Marketing Ninjas.
Ways to get Ranked Locally – Your website (Organic/PPC), Your Google Places / + Local, age, Social Media Sites (LinkedIn/Twitter), YouTube and other Video sites, Directories, (Yelp / Merchant Circle), Local Commerce Sites (Groupon, Living Social & ReferLocal), Yahoo/Bing
Blended & integrated search has changed things, you can now have a listing that represents your website and also represents other things like reviews or Google+ Local page
Many in room HAVE a Google plus page, only 2 people said they didn't.
Owning the page, its just a first step, there are a number of things you'll need to do to optimize the page. Google looks at a variety of factors such as physical address in city of search, distance of your business to the center-point of the user's search (centroid), Level of engagement on page, including reviews and interaction w/ pictures & maps.  Upload photos and videos, etc. it's likely google is using that as a factor. Product/service/location keyword in business title – still critical, descriptive and keyword centric but not stuffed, Local area code on page, age of page
Review ranking factors are Quantity/Velocity of native reviews, Ratings – likely more important with recent, changes to remove 1-5 to auto score (poor, poor to fair, etc), Product/service, keywords in reviews, Quantity / velocity of third-party reviews (Yelp, Foursquare), Location keywords in reviews, Authority / Reputation of reviewers
Google + Local Optimization tips include Verify, Improve & Expand categories, add a local #, encourage reviews, use images, ensure address is right and optimize w/ keyword, etc best practices.
On site ranking can include quantity and authority of citations, consistency of structured citations, quality/authority of unstructured citations as well as quality/authority of inbound links, this is basic SEO stuff – do it right, and you'll benefit in other areas.  Good SEO is really the basis for succeeding in various other search disciplines.
Michael Dorausch, President & Founder, Planet Chiropractic (@chiropractic)
Small business owner that has been dealing in local for (I think he said 2 decades.)  Asks how many small business owners, maybe 20 hands went up.  Encourages them to dominate their niche with Pubcon info.
Encourages everyone to identify their community, advises SEOs to make this identification homework for clients.  Bought his employees phones and pays bill, the deal is they have to be social, he now has fanatically social employees that promote his business.
Ask your clients info.  If you have forms, add discovery to the forms, What keywords? How Did you hear about us? Did you have problems with directions? What maps do you use?
Find your customers that are power users, elites, strong brand advocates.  Categorize emails by what kind of email client they use.  Gmail email addresses can write reviews on Google, great way to target.  If you're a local business and want to interact, make sure you pay attention to check-ins and photos.
If there is a business nearby that gets great reviews, even not in same niche, it may trump your presence on the maps.  Pay attention to drive by check-ins.  Location based services, high check in potential vs low check in potential – if you have low potential, you need to try a little harder.
Sponsor/volunteer and take advantage of the social media tie ins for local business/content.
Location + Event Preparation
[City] Marathon or 5k, 10k, half marathon
Maps (course, parking, start & finish)
Highlight volunteers
Check out his slides, he went through that slide too fast!
Great idea – ask for a review in the yearly Christmas card to clients.
Last up before Q&A is Kenny Hyder, Founder, Hyder Media.  He's rocking Pubcon casual, I love that about this conference!
Kenny is going to talk about Nationwide/Large Scale Local SEO.  He's thinking about a national brand with brick and mortars all over the country.  Regardless of size, giant or small, if it's not optimized well, you're not going to rank well.
Architecture is very important when you're working on a large scale.  Biggest issue with large sites is architecture.  Keep it simple with a large site and make sure it makes sense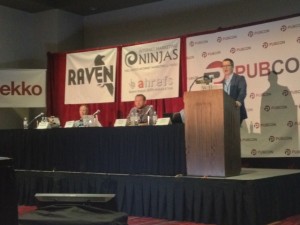 Pay attention to url structure, make sure it reflects your path, much like breadcrumb navigation.  Don't use sub domains, don't use index.php on the end of your urls, its unnecessary.
don't put keywords in your urls if you're a huge site, specifically if you're in a highly competitive scrutinized niche like weight loss and payday loans.  People aren't searching for keywords, they're searching for locations, use the town in the url, not the keyword phrase.
Don't make the site function with a lot of javascript, use a simple, easy to crawl and navigate architecture.  You can use features that use java, but don't use them instead of solid simple architecture.
Kenny has some great slides with how to structure and flesh out content for your pages.  This is great info, but really complicated to write about.  Here's a pic of his slide: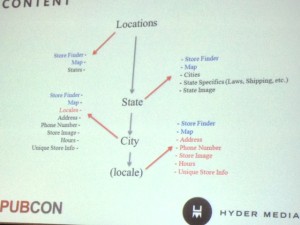 DON'T use a picture of a map, use an interactive map that can be zoomed in and out, etc. Don't refer people to other map sites from your own site.
Look for location long tail keywords, you cant daisy wheel the state/city name into the same keyword phrase over and over again.  Keywords change from location to location.
City specific directories can be huge compared to national sites when it comes to authority.  You may deal in nationwide, but you need to look at your markets individually.  Start with your most important cities.
Go mobile, your sites load slowly in a mobile phone, use an optimized mobiles ite to be the winner.