Optimizing content is a process by which relevant keyword phrases are included in text on a web page.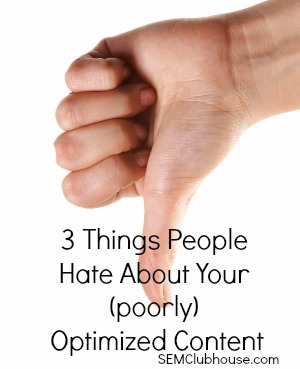 WELL optimized content is a whole other animal.  Anyone can write some text and cram some keywords into it.  Writing text that pleases users, and search engines, is an art.  Not everyone can do it, not everyone should.  I thought of some things I've seen recently that drive this point home.  If you cant do this for your own content, hire a professional.  You wouldn't ask your mechanic to write your marketing plan, would you?
Here are 3 things people hate about your optimized content
There's way too much of it.  How much content do you need on a page?  Enough.
Tell the story, tell the ABRIDGED story.  You don't need 1,000 words on the page to rank because you read it on some website 2 years ago.  You need text, but 250 +/- words that get directly to the point will serve you, and your reader, much more efficiently.
It's hard to read.  You included no paragraphs, content breaks with bullet points, bold main ideas, or images.  It's just text on the page.  Boring.  Sorry – people don't read content that looks like this, and search engines know it.  Engage the eye to engage the reader.
It makes no sense.  This generally comes in from 2 avenues.  First, you crammed too many keyword phrases into the page and it reads like a keyword research document.  Tell the story with words people would use to find it, don't repeat those words in every sentence, that's overkill and makes your content nearly impossible to read and relate to.  The second avenue comes from machine or non-native speakers.  We always recommend that content be translated into the target language by a native speaker.  Someone who understands the nuances of the language and can reform sentences so they make sense.
It's okay to not be good at something.  It's okay to hire someone to handle things  for you.  This is probably the topic for a whole other post.  If you need well optimized and user friendly content.  Take the time to do it right, or hire an expert to do it for you!