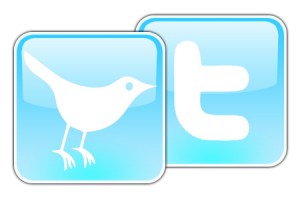 I was an early adopter of Twitter, back in the early months of 2007 when it was easy to manage friends, followers, conversations and relationships on the medium. A lot has changed in these two years. From constantly seeing the fail whale, to briefly flirting with plurk, to coming back to twitter with a slew of new applications that enhanced its use, I admit, Twitter has won me over.
That being said, somewhere along the line I feel that people have lost site of what Twitter was really about. Community, engagement, conversation, all in 140 characters. At first it seemed silly – 'I could never use Twitter, it's stupid' was heard a thousand times, but as it was became more of a viable communication tool and companies were engaging in unique ways with their audiences on this medium, something has changed — it's gone main stream. You scoff? I know it's reached the main stream when my mother has a Twitter account.
As I stated before, somewhere along the way to the jump to mainstream something seems to be lost in Twitter. There seems to be a growing lack of etiquette as this Web 2.0 tool reaches the main stream. As with any tool that becomes popular, eventually someone tries to monetize it for their own gain through spammy techniques. To a degree it dampens the spirit of what Twitter was originally all about. Of course I realize this happens everywhere, no fear, I'm not naive! The other part of the lack of etiquette part on the rise is the "Ego". It's all about how many followers you have compared to who you are following, are you contributing to the conversation or just ranting about yourself, or do you just constantly link to your own blog instead of steering others to other great pieces by bloggers your followers never heard about?
Auto DM's (Direct Messages)
If there's one thing that will get me to unfollow someone quicker than sending me porn tweets, its an Auto DM (Direct Message) that "promotes" some other site, profile, white paper, affiliate site or anything else people want to try and get me to click through on. This folks, is Spam. Just because I followed you, it does not give you the permission to SPAM me on Twitter, it just pisses me off and makes me hit the unfollow button. I won't go into a whole debate about Automatic Direct Messages, Christine Cavalier (fellow Philly gal) has an excellent post on Auto DM's that is well worth the read, as does Chris Brogan.
I find the "click this" mentality in Auto DM's to be just total, absolute junk. If you'd really like to get me to read something, talk to me first and then ask me to read it, or become your friend on FaceBook. I don't have as much of an issue with Auto DM's that just say "Hey thanks for following me!" without the links, still its lacking the "community" feel, but at least you aren't spamming me with junk links.
"Tweeters" Who's Tweet Streams are Just Links
Unless your Twitter account is a blog or a newsfeed (like ESPN, etc.) and it's specifically transparent that that is the sole purpose of the twitter account, tweeting nothing but links just reeks of spam. I check out each follower email I get to see if the person is someone who's conversation I'd like to follow. If you're twitter stream is one tweet after another of tinyurl's and no conversations, I won't follow you. It's likely no one else will either if they are serious about using Twitter to communicate and not really a broadcast channel. Now that being said, there are some twitterers who like getting their news updates this way – and they opt into that. But if you are just a person or just a company pimping your affiliate links, the love affair with your followers likely won't last long. Twitter is about conversing and engaging, how can you have a conversation if all you do is send out links? It looks like what it is, just Spam.
Not Sharing The Love
This is one of the places where "Ego" comes into the picture. Are you out there sharing the love? Twitter is no different than a blog when it comes to this area. Sharing your knowledge, sharing things you come across, retweeting others tweets, that's all a form of "sharing the love" and other tweeters really do appreciate it. One of the people I admire the most, who does this so well is Connie Reece, at least a few times a day you see retweets, links to other blogs, links to other tweeters you should consider following or information about causes or just neat stuff. Connie doesn't let her ego get in the way, she's truly involved in the community and cares about it. It's not about her, or how many followers she has – evident by her 18k+ tweets (that are not Spam!).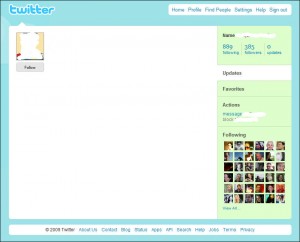 Are You a Lurker/Stalker?
All too often lately, I come across followers who have nothing on their profiles. No tweets! They follow lots of people, and they actually have some followers back. Why would you follow someone who hasn't put up one tweet? I find this a little disturbing, almost a little stalkerish, which is why I won't follow someone unless they've at least demonstrated they want to at least try Twitter. Why go through even putting up a bio or a specialized Twitter background if you aren't going to participate? It just seems a bit bizarre to me. It doesn't take much to get involved, you just type your 140 character message into the box and press "send", "Hello World" is just 11, it's not hard, honest!
Follow, Unfollow, Follow, Unfollow….
Unfortunately I cannot be on Twitter 24/7/365. Work for my clients, family time and even the occasional down time take priority over me getting to follow back those who are following me. I try to be pretty good about following back – usually within 3-5 days. What I found rather unnerving is Twitter folks who use the Follow/Unfollow as an attention getter, or that they unfollow you 24-48 hours after that follow message goes out. I'm not alone here either! At South By South West, that was one of the biggest complaints I heard over and over again. Theses "attention" seekers will follow you, then unfollow you, then follow you again to get on the top of your followers list. Adept Twitter users aren't stupid and they know what you are doing, and guess what – they likely won't follow you for doing things like this.
Then there comes the people who unfollow you 24 hours later, so they can add more followers to their list. You come back and add them (you don't know they've unfollowed you) and then you get an email again that they've followed you. This was another thing that annoys twitter users at South by South West – the people who are just after the big number of followers. Again, that goes back to ego, and Twitter is about community.
So stop and think about how you are using Twitter. Are you so focused on "you" and your ego that you are forgetting what Twitter is about? Are you guilty of one of the above? It's not too late to change your ways – the other great thing about the Twitter community is if you say "oops i screwed up", they are very forgiving! 🙂