Small business owners struggle with marketing.  It's a fact.  Spending the time to create a strategy is just the first step.  Execution, consistently and deliberately, is a completely different matter.  Beyond execution, measurement and agility to implement change is even the next step.  When running your own business alone, this becomes even more difficult – factor in the time spent on customer service, inventory, staffing, banking, billing, etc – and marketing is the piece that gets pushed to the bottom of the list.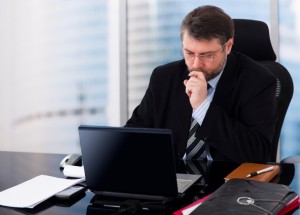 With more and more importance placed on "being" in the market, finding and making time for marketing is even more important.  Knowing how and where to start when evaluating a marketing opportunity can involve a variety of factors. Each potential commitment should be appraised to gauge a variety of factors that will help you make an informed decision.
Features, cost, potential return, time investment, competition and length of commitment are all factors you need to keep in mind when thinking about a marketing channel, directory or tactic being "worth it."  When time and effort are limited, it's important to keep your eye on getting the biggest "bang for your buck."
There are a few tasks that will prepare you for making quick decisions about marketing opportunities.  I like to make a list of goals for the business that can be referred back to whenever an opportunity arises.  Keep this list handy so you can refer back to it often. Start by setting limits of what is considered acceptable and outstanding ROI. The performance of each opportunity will be measured against these guidelines.  Each component of your marketing will be a portion of the overall picture.  Having a realistic idea of the return is a great way to set yourself up for success and alleviate any disappointment that unrealistic expectations might cause.
The following tips for evaluating an opportunity focus mainly on evaluating a linking or directory offer, but can be applied to nearly any Web service or tool:
Cost — The first thing you'll naturally ask yourself when faced with is cost.  A high cost, that yields a high return on investment might be worth it.  Marketing should NEVER be the thing you gamble your whole business on.  Always ask yourself, "If this doesn't work, will it affect my ability to do business?" If the answer is "yes," the cost is too high, and that opportunity should be considered too risky. The second part of analyzing cost, consider what you will receive for your money.  Quality is king – if the opportunity includes a great looking listing on a high traffic site, a higher cost is justified versus a simple text link buried on a page full of text links. In fact, I'd stay far away from the latter, and consider the former instead.
Time — Marketing tactics that take daily or hourly monitoring cost more than just dollars,they cost time.  What is your time worth? How much time can you invest in the opportunity to receive the best results?  Sometimes paying a bit more for a platform or setup that is taken care of for you can be worth it in time savings.  Consider this when choosing the level at which you invest
Potential Return — This can be a bit of a grey area. An opportunity marketer wants your business so their JOB is to polish the positive, and shadow the negative. Look for referrals and testimonials. If they're asking for a significant investment, references should be available and willing to talk to you. Search the company's name and see if they have an established (good or bad) reputation. Look at the online forums or Google reviews to see if other companies have had a good experience.
Competition — Do your competitors use this directory or service?  This might be a way for you to gain a foothold on the site or in the market.  Consult the SERPs for your competition's brand and see if the directory or other product is ranking for their name. You should be able to achieve the same results with the same level of service. Some opportunities will rank well for your brand name search, which in turn will assist you with "owning" the first and second pages of results for your brand name.  Things you control can push down things you cannot.
Features — One of the first steps you should take is to determine what you're going to get for your investment.  Look at other results on the page and see what others are getting for their money.  Run the site,or subfolder, through SEMRush.com and see how many organic keyword phrases they rank for.  Also look at the mechanics of the listing.  Do they no-follow their links? If not, are the links showing as backlinks in the various SEM tools? Links aren't the only reason to go after these opportunities, but they do help. In this new age of social networking, connecting your listing with your social media profiles can be an added bonus.
Length of Commitment — This one is pretty straight forward, after a few months of sub-par performance, can you back out?  Are you guaranteed a refund if you're not satisfied?
Let's talk about the guarantee people….Unfortunately, every industry has their snake oil salesmen, marketing is no different.  There will always be the companies out there that "guarantee" results.  The rulefollowed by most legitimate marketers is the law of no guarantees.  There are no guarantees that something will return your money 200%, or drive 500,000 visitors.  Any company that guarantees you traffic, money,or rankings, is not a legitimate enterprise, steer clear.  If you still want to try them out, find out what recourse you have if they don't live up to their promises. One rule of thumb to remember with each idea that presents itself is the old adage, "If it looks too good to be true, it probably is."
Investing in search marketing can be a gamble, if you don't do your homework. You're not only gambling dollars, you're gambling time.  By looking at each opportunity and comparing it to your list of goals and  ROI expectations, you'll be more prepared if that gamble doesn't pay off. You'll also be more likely to invest your time and money in things that work. Stay tuned for more ideas on how to invest in small business online marketing to make the most of your time and money.