The long tail. It's a term that has been used for a long time in the online marketing industry to define the keywords that live in a low search volume/high relevancy & conversion rate realm.
Many online marketers realize that the long tail is where the ROI lies when it comes to search engine optimization.  Many of these terms require little to no effort for ranking, but return a nice revenue stream.  Generally these are the longer 4-6 word keyword phrases that describe your product or service very specifically – and convert much higher than less relevant/more competitive phrases.
Seeing how the long tail is doing has become easier with the invent of Google Analtyics dashboards.  Now you can simply see the phrases and the revenue they generate with a single click.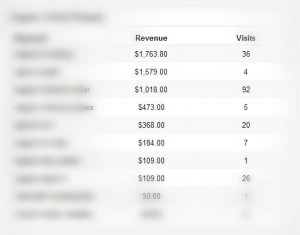 Here's the link to the dashboard – just click here and choose which Analytics profile you'd like it installed to.  You'll be able to see the phrases and their corresponding visits and revenue.  A valuable tool for evaluating which keywords are truly important to your SEO.  You could add to this dashboard and include 1 and 2 word phrases very easily!
Playing around with custom filters and dashboards in Google Analytics can offer great insights into how your website is performing.  Check out the new Google Analytics Solutions Gallery to find more custom reports, filters and dashboards designed to give you deeper vision into your data!