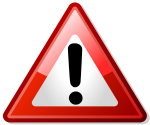 My online marketing background started in the travel industry.  Now at KeyRelevance I deal with clients with a wide range of interests.  The one thread that is constant is the reality of what a crisis or disaster can do to your online and offline business.  Hurricanes, Oil Spills, Fires, and other disasters happen all the time.  Sometimes we have a business that can thrive in these environs, sometimes we are greatly impacted by them.  The key to weathering the storm is to have a plan!
Media
Sometimes, the media is your worst enemy.  They report on disasters and sensationalize damage because they think it makes "great TV."  What they don't take into consideration is the impact their reporting can have on your business. Future guests who are booked into your hotel, or possible product purchasers might think you cannot accommodate their stay or order, when in reality you are ready and waiting for them to come buy or arrive. Here are some tips to keep up with the media during a disaster:
Don't wait – cultivate a relationship with local TV, Newspaper and Radio reporters before you need it.  They're more likely to take your call when they're really busy prepping to report on breaking news.
Don't Hide – be up front about what is happening locally.  Share it on your website and on your social media outlets.  Keep your customers informed, let them know what's going on, what you know, and when you'll know more.  It's even okay to say, "We're not sure what this means, but we'll let you know as soon as we do."
Hit the Pavement – When you need to get the word out that you're open for business, or will be open for business – get that word of mouth going.  Online this will be via social media, offline this will be by popping in and visiting your business neighbors and the local media outlets for a quick chat.
Utilize Press Releases – Push out one to two press releases a day as you have updates on the situation and how your business is handling it.  Staying ahead of – or at least even with – the mainstream media can help gain visibility for your business.
Use your Assets – If there is a big-name company in the area, piggy back off of the searches for their name by mentioning it in your own press.  Example: You're a hotel near Busch Gardens and there's a hurricane coming.  Use "Busch Gardens Hurricane" or some other relevant keyword in your press release.  A title like "Joe's Hotel, Near Busch Gardens, Re-Open after Hurricane Anna"
Redirect Pay Per Click Funds – Look for trending keywords around the name the disaster is given in the press and consider buying keywords related to your business.  Craft ads that will let searchers know you're open and safe, or let them know that they need to contact you for information on re-ordering, re-booking or canceling their business should the need arise.
These are just a few tips, but they can make a big difference when that unforeseen disaster sets in.  We never want these things to happen, but if we've at least thought about them, we're in a much better position to mitigate the damage to the bottom line.